Rustic Retreat Lodge for Dogs, LLC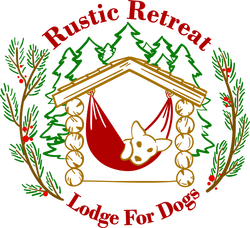 ​WELCOME AND DISCOVER A HIDDEN GEM! ​A small, unique, brand new dog boarding facility on 7.5+ acres, with a quaint, rustic feel. Thank you for visiting our site, we're glad you're here!

Rustic Retreat Lodge for Dogs, is a family owned and operated pet boarding facility conveniently nestled on wooded acreage just 1/2 mile off US-131. The kennel is only 3.5 miles from picturesque Rockford, and an easy drive to downtown Grand Rapids, Cedar Springs, and Comstock Park.

Our goal is to have you feel as comfortable leaving your pet in our care, as your pet will feel staying with us! While at the Lodge, your pet will receive individualized care and attention, including daily country walks around the property (weather permitting). Since the owners live on site, and this is a small kennel focused on quality, not quantity, we are able to offer one-on-one time and attention to each guest of the Lodge. Our facility is fully insulated and kept cozy inside with infrared tube heating during the winter weather, and well ventilated indoors in warmer months. All breeds, ages, and sizes will be comfortable with our raised cot-style bedding and spacious indoor/outdoor kennels.

Rustic Retreat Lodge for Dogs was constructed with dog safety and comfort in mind, and the owners live on site. **NEW** Fully fenced in playard is now available!!! Dogs get plenty of outdoor playtime, individually or in small groups, or individual leashed walks around the acreage. They can stay for a couple hours to play, visit for a long weekend, or even stay for a month at a time. If your dog does not get along with others, that's perfectly okay! Your dog can go outside by himself and will still get just as much time outdoors. We understand that some dogs just like people better than other dogs. Once the dogs have been here for a couple of days, they settle right into our routine. We are here to offer a fun, safe, and comfortable place for your dog to stay.

Have a look around. If you have any questions, call or email us, we'll be glad to get to know you!


---